Beers
Beer to go
A selection of bottled beers
En fût cette semaine
Open until 11pm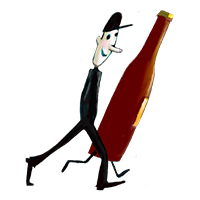 Dinkel Weiss
Spelt white with notes of hazelnuts and ancient wheat.
Grisette
Assemblage of Grisette aged 1 years in red wine barrel
Petite Framboise sure
Sour with raspberry barrel 18 months then macerated on grape marc Gammay from the house Joy Hill.
Manon
Hopped Brett Saison. Long aging and dry hop. Flavors of peach, tropical fruits and white flowers.
Marc de Raisin
Saison barrelled for 1 year then macerated on Gammay grape marc from Joy Hill.
Griotte
Seasonal solera aged 8 months in stainless steel vats then 2 months on a cherry bed.
Brut
Hyper dry and vanilla flavoured, with white grape aromas. The champagne of beer.
Blonde
Golding hops English Golden Ale
Ambrée
Hazelnut and pralines English Brown Ale